Part One
Part Two
Leave a Comment
I had a fabulous, meaty question from a subscriber recently who wrote to say she had recently switched from a 30-year graphic design practice to painting and was finding it tough.
She asked "How do I start a new painting? My paintings have no consistency.
Do I just let it flow? Or does in need to have a set direction?"
This is the question that comes up when we begin to take a more focused approach to painting. When it becomes for us more than a pastime or hobby and becomes a passionate pursuit or profession.
Usually, it's not the painting that's tough, it's the thoughts that come up – the judgments, the inner critic.
Here are some things I suggested she try:
1. Create a studio journal. Writing before starting a painting. Blurt everything out.
2. Step back from the thoughts that are coming up. Become aware of what the quality of the thoughts you have while painting.
3. Set a timer during your painting process and step back, pause every 20 minutes or so and notice what is going on. Check in with your body, emotions, thoughts.
4. If the thoughts are not supportive, replace with more supportive thoughts.
5. Take out all your paintings completed thus far and look at them as a group. Journal about them from a curious, non-judgmental perspective. Don't worry whether you love it or hate it. Just get curious. Write down from a neutral voice what you are noticing.
6. Think from a broader perspective about what the paintings are about. What are they teaching you? What are they showing you?
Leave a Comment
After one of my acrylics talks a few years ago, an artist pulled me aside and said,
"Now, I finally understand why my paintings are falling apart! I wish I had known what you just taught me 10 years ago!"
My heart went out to her. I've made more technical mistakes with my art over the years than I care to recount. That's why I'm so passionate about sharing with artists how to build a sound and stable paint film.
I don't want to hinder anyone's creative process. That's the last thing I want! That's why I offer some sound alternatives here to get the same look without harming the paint film.

Please, please share this info with all your painter friends, artists groups, classes, professors, etc. I've found in the 15 years I've been teaching this to artists of all levels from those with 40 years experience and paintings in museums to the absolute beginner, only about 5% have ever heard of underbinding. Let's make sure no more artists have their paintings fall apart by something that could easily be avoided.
Leave a Comment
Isn't it frustrating (and expensive!) to waste paint? I've got a video for you with my favorite tips on how to save acrylic paint on your palette after your painting session. Please feel free to post your comments or suggestions!
Leave a Comment
In this feature, each month artists share one thing that excites them creatively.
One key piece to support healthy, productive creativity is stimulating inputs. What kinds of things stimulate the creative centers of the brain? What kind of inputs stimulate us visually? Emotionally? Spiritually? Mentally? Physically?
I'd really like to know, what's one thing that fills your creative cup? Share with us in the comment section below.
What Inspires You?
Linda Ursin

What inspires me?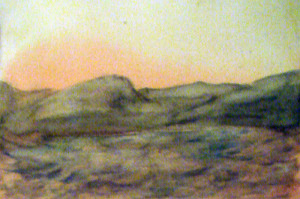 Anything and everything. It's hard for me to pick one. I can't really say I know where it comes from. I'm multi-creative, which means I create in many different ways.
Linda Ursin
Website: heksebua.com/linda
What Inspires You?
Leo Anderson

What inspires me?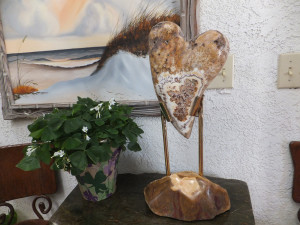 Ideas come from everywhere. God gave us a lot to work with and putting it together in a unique way intrigues us all. Make notes. Your mind is full and universal mind has all – so take notes on what comes to you. It doesn't matter if you're working on a thing or not. Put a date on it. Do everything you do perfect because it's all only single steps. Nature is full, observe!

Leo
Leave a Comment
When I first switched over from oils to acrylics years ago – I was always trying to get away from the "plastic-y" look they had.
Then I discovered the array of gels and pastes that could take the standard paint texture from creamy to stiff to sandy to matte.
The two I show you in this video are still in my all-time favorites list.
Hope you enjoy it and let me know your thoughts! Have you used these before? What are your favorite acrylic gels? Any techniques you'd like to share?
Leave a Comment