After one of my acrylics talks a few years ago, an artist pulled me aside and said,
"Now, I finally understand why my paintings are falling apart! I wish I had known what you just taught me 10 years ago!"
My heart went out to her. I've made more technical mistakes with my art over the years than I care to recount. That's why I'm so passionate about sharing with artists how to build a sound and stable paint film.
I don't want to hinder anyone's creative process. That's the last thing I want! That's why I offer some sound alternatives here to get the same look without harming the paint film.

Please, please share this info with all your painter friends, artists groups, classes, professors, etc. I've found in the 15 years I've been teaching this to artists of all levels from those with 40 years experience and paintings in museums to the absolute beginner, only about 5% have ever heard of underbinding. Let's make sure no more artists have their paintings fall apart by something that could easily be avoided.
These are the materials I mentioned in the video above:
Liquitex airbrush medium
Liquitex gloss medium
Liquitex acrylic gesso 32oz.
Leave a Comment
Do you remember the first time you painted? The pure joy of smushing paint about? The miracle of watching colors interact? The visceral thrill of seeing just what the stuff would do?
Sometimes, as we gain skills and get more "serious" about art, it's easy to get caught up in outcomes and we forget just how fun paint can be as a material. But don't you find that playfulness is often where you best "serious" discoveries occur?
Pouring with acrylics can take just about anyone back to that immediate delight of handling pure color. Here is a video to show you a basic technique with pouring :
But you ought to know there is SO MUCH more it can do! For instance, have you seen Brazilian painter Beatriz Milhazes' exuberant canvas collaged with layers of acrylic sheets in eyepopping colors and forms?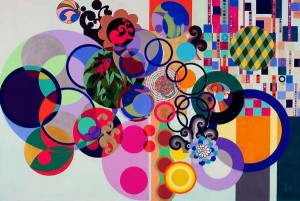 Image courtesy of James Cohan Gallery
I created this piece using pouring medium and string gel combined. See my post here for video with details on how I did it.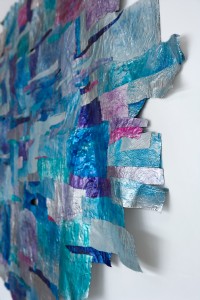 I'll be teaching all this and more at my workshop on February 11 right here in my beautiful new studio in Emeryville. I'm so excited about my new location because it's within walking distance of plenty of hotels and restaurants. So if you want to have a little San Francisco getaway/art retreat, the Hyatt, Sheraton, Hilton, Holiday Inn, Woodfin Suites, etc. are all within blocks of my studio.
The first 5 people to sign up are getting a bounteous bonus gift worth over $50 – a kit of acrylic inks, soft body colors, a medium, a mini canvas and a palette knife.
Here is list of materials that I used that will help you get started:
Happy Painting!
Leave a Comment