When I first learned about Photoshop I was a bit daunted because everyone told me how hard and complex it was. I spent years taking classes, buying books and studying with an expensive private tutor to finally learn the stuff I needed as an artist editing my own images.
I've condensed what I've learned into a basic, introductory course exclusively for visual artists.
•  The success of your work depends on having excellent digital images.
• Save loads of money on classes, tutors and manuals that won't show you the stuff you need as an artist.
• Prevent the hassle of learning stuff you don't need.
• Present your art to the world in its very best light!
$97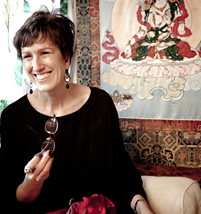 "Your training certainly was helpful. I just finished watching Video 2 of your Photoshop course. Loved it. Clarified things I've been doing haphazardly and guessing at for a number of years."
– Leslie Rinchen-Wongmo threadsofawakening.com
I made this course for you if:
You learn best by having someone sit down and show you how to do things.
You're comfortable with learning software and have been wanting to learn photo editing techniques but just haven't found the time to sign up for a class or plough through a 300 page book to find the tools you need.
You're afraid you're missing out on opportunities because your digital images aren't showing your work to best advantage.
You have Adobe Photoshop CS1 – 6 or Adobe Photoshop Elements and don't really know how to use it.
You want to buy Adobe Photoshop and are intimidated about learning it.
You took a course elsewhere in Photoshop and still don't know how to use it!
You can never find the info you need in the Photoshop manual you bought.
You have Photoshop and you've used it a little, but feel like you aren't getting quite the results you desire.
In it you'll learn:
How to use Levels to adjust the darkness or lightness of an image.
How to Color Balance your images – adjust your images to be warmer or cooler to match your original art.
How to use the history palette to easily reverse any changes you don't like or get them back again if you change your mind.
How to save images for web – what the best sizes and resolutions are and the best way to save them so they can be read on all platforms.
Best way to save images for print.
Which tool to use for sharpening?  Unsharp mask tool? Sharpen? Sharpen Edges?
This home study course includes:
2 Easy-to-follow video training sessions that you can listen to at your own pace. Pause the video when you like, relisten to parts as needed. It's like having me right by your side, guiding you through the process step-by-step.
 A fully-illustrated 14-page Guidebook to accompany the video trainings that gives you the same steps in a written form so you can follow along, review later and reference specific steps and tools as needed.
A portfolio of practice images.
This easy-to-follow course is entirely online. As soon as you purchase it you will receive a link to the password protected page with all your course materials. Your illustrated manual is downloadable as a pdf file that you can print out and save, jot down notes, highlight and always have a fresh, clean copy on your computer.  You will also download the jpeg images to practice your new skills.  You will haveunlimited access to the accompanying video tutorials over a 3- month period. (I don't want this course to sit on the shelf unused! I give you this time frame so you'll be sure to get going and start using your brand new skills to make your beautiful art shine in the digital format!)
Tuition: $97

Here is some information outlining the difference between Adobe Photoshop and Photoshop Elements.