We all need a little push now and again. Sometimes we've just gotten busy and neglected making art for a little while or maybe we had a job or were raising children and neglected it for a good long while.
Whatever the reasons, here is some inspiration to help get you back to work! If not RIGHT this moment, then hopefully sometime in the very near future!
Think how good you'll feel when you do!
Only by doing it will you be able to move through 'the wall' to free creative energy.
You need creative time to bring out the best in yourself.
The Butterfly Effect – Your creativity effects other in ways you will never know. You don't have to be a "famous" artist to have an impact. Just think of how we are still affected by the cave paintings done over 6,000 years ago by anonymous early humans or the baskets, weavings, ceramics, etc. created by people in civilizations who predate ours.
It's an antidote to consumerism. Adds to the good in the world.
Creativity connects you to something greater than yourself.
Now go make something. NOW. Go do it! Even if it's just for 10 minutes! Yay!!
If you've been missing making your art, share below and let us know which reason resonated the most with you?
What are some other reasons you can come up with to do your creative work?
Leave a Comment
Don't you just love being read to? I do! I loved it as a kid and I still love it as an adult. Just one of the many reasons I love to listen to audio books.
My little holiday gift to you – I'm reading a chapter from my book Seven Essential Practices for the Professional Artist: Create a Studio Habit – Consistency
I hope this gives you a little boost to get in the studio if you've been having trouble making that a regular habit.
Many artists I've worked with struggle to create regular time for art making. It seems as if everything else always gets in the way!
It's easy to fall into this trap. Why should it be so hard when it's what you love to do?
One reason is that many creatives, in all fields, have a highly developed inner critic. But it can be a problem when you let this inner critic run rampant in the early stages of creating something.
We also doubt that we have ideas that are worthwhile. I'd like to go on record as saying even if only ONE person in this world benefits from your studio practice – YOU –  the entire world has benefitted. You are no more important or less important than every other being on this planet. Your happiness, satisfaction and sense of deeper connection with All-that-is that creative practice engenders spills out and touches all in your circle. When you have it in you to be creative and you fulfill that promise, it feels as if everything is right in the world. Have you notices? And in turn your family, friends and colleagues get a happier more fulfilled version of you. Then they in turn touch every one else in their circles with a greater sense of satisfaction and peace and so on.
I've found it highly beneficial when stuck in the studio and having trouble getting jump started to have a commitment to regular, inviolable studio time. Even fifteen minutes a day makes a huge difference!
Creativity is like a muscle. Use it regularly and it gets stronger, firmer, more toned and ready for action.
Once you cultivate this regular practice, it becomes like a loyal friend. It will not let you down it will be a comfort and solace in the good times and not-so-good times.
If you have your own ideas to share about how having a regular habit of getting into the studio has helped you, please do in the comments below!
Or perhaps consistency has never worked for you and you prefer a more sporadic studio practice – let us know about that! There is no ONE way for every artist. The mindful artist community is designed to help you find YOUR unique path to a satisfying and enjoyable life as an artist.
By the way, Iris mentioned in the comments that she hadn't realized the book was available in print. If you are in Canada, you can purchase copy directly from the publisher, Editions FrI, and have lower shipping costs. (The may even have a few signed copies left!) 
http://fissaly.wix.com/editionsfri#!m…
Or you can get it here on Amazon: http://goo.gl/ngnDI
Leave a Comment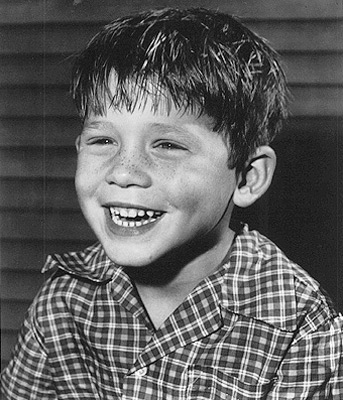 I've got nothing against Ron Howard, really. Opie was a cute kid. But, forgive me, so far I can't stand anything directed by the man. I find his style sappy and emotionally overwrought.
OK. That's about as critical and mean-spirited as you will hear me get publicly. I even struggled with using the word hate in my title. In truth, I don't hate anyone but I'm trying to make a point here.
I picked Ron Howard because I know he can take it and I know he's probably a really wonderful and totally sincere guy who could care less what I think. And he has touched millions of lives with his work over decades of service as an actor, writer, director and, producer.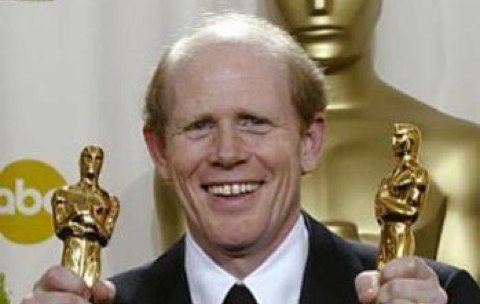 In fact, I'm certain many of you LOVE Ron Howard. (And if I insulted you with my opening paragraph, I apologize.)
I know many of you love mushrooms, too.
Can't stand 'em myself.
What I am trying to stay here is taste is purely subjective.
And that's all it is. Taste.
Feel free to ignore the people who will try to tell you their taste is the taste. The correct taste. (Ahem – art teachers, professors and critics.)
As you send your work out into the world, some people will LOVE it.
Some will hate it.
Some will say "Meh."
That doesn't mean your work is good.
Or bad.
Or even Meh.
It's just your work. It's the work you do.
So when everyone is patting you on the back and giving you shows and buying your work it doesn't necessarily mean you are brilliant.
And if NO one is paying attention and you continually get rejected neither does it mean your are an idiot who should give up and go do something else.
It means nothing.
It's just ego stuff.
Because you love this thing so much – creating, making, innovating, birthing new projects.
To continually evolve and pull ideas from deep within.
To craft and hone and love them.
Your work is a gift of love to the universe and to yourself. (You are, after all, an integral part of the universe.)
Keep on, friend.
Leave a Comment
Wherever you are right now as an artist, I am here to remind you that you can do this.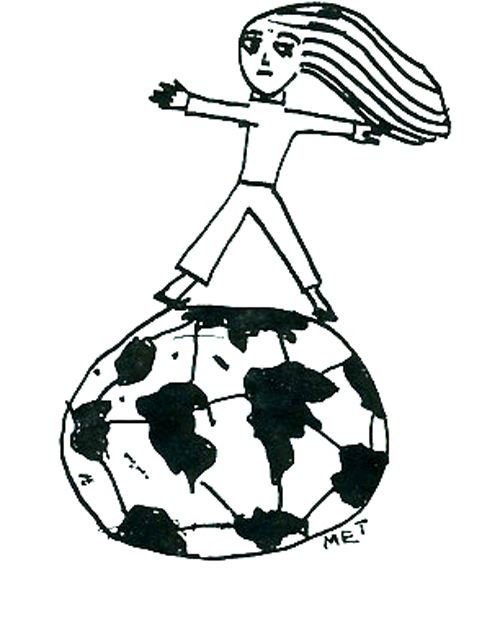 It may not always be easy and it may not always be smooth but if you keep at it you will experience joys and rewards you could not have dreamed of from where you stand right now.
It may not always look exactly like you dreamed it would, but the life you aspire to is waiting for you.
I just wanted to make sure you remembered this.
Your work means something. There is a place for your work in this world. No matter what kind of work you make, there are people out there just WAITING for you work.
Really.
There hearts are longing for what you and ONLY you can give. Just as there is no one in the entire world who looks quite like you, there is no one in the whole entire world who can create what you do.
Your work is important.
Please remember that.
Now, go get in the studio!
Leave a Comment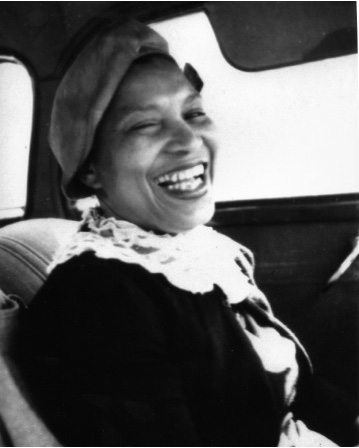 This month's quote is from a writer. I learn so much from reading all kinds of artists – dancers, writers, actors, musicians – speak about their process. I don't feel it's that different in other mediums. 
"Perhaps, it is just as well to be rash and foolish for a while. If writers were too wise, perhaps no books would get written at all. It might be better to ask yourself 'Why?' afterward than before. Anyway, the force from somewhere in Space which commands you to write in the first place, gives you no choice. You take up the pen when you are told, and write what is commanded. There is no agony like bearing an untold story inside you."
Zora Neale Hurston from Dust Tracks on A Road
What about you? Is there anything in Zora's words you can relate to? We would love to hear your thoughts in the comments section below.
Leave a Comment
A few months ago, a friend invited me to join at women's fitness challenge group she was forming.
Participating has radically changed my yoga practice  (In addition to getting me more in shape and encouraging me to do even more cardio.)
I have been practicing yoga for 27 years now.
I've had dozens of amazing teachers over the years. I've gone through periods when I went to 3- 5 classes a week and periods when I've just practiced on my own.
I've had times when I stepped away from it temporarily.
But mostly, I've practiced daily for all these years.
But I need to admit something to you.
There are poses I just have not really progressed in.
I can do a mean triangle pose but I've never been able to do a full vrischikasana (scorpion) without assistance: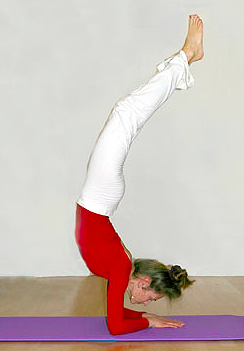 or bacasana (crow pose):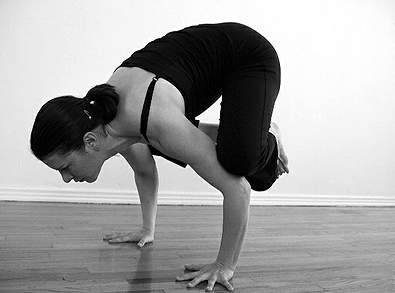 I just haven't built the upper body strength.
So that has been a big part of my commitment with the fitness challenge – to work on my upper body strength.
And I have. I've been doing poses all on my own that I shied away from. And it's all due to the support of this wonderful group of women.
I am so grateful to them.
So what does this have to do with you? And with your art?
Is there an area of your art life and career where you haven't been challenging yourself?
Have you been coasting? Staying with what's familiar or easy?
I heartily recommend gathering a group of like-minded individuals around you. You'll be amazed at how motivating it is.
Some people call this a Mastermind – a group in which the power and intelligence and motivation of the group far exceeds that of each individual.
That's why I always build a group forum into the Mindful Artist Mentorship Program. I have experienced first-hand what an enormous difference this makes and now I wouldn't want to be without it.
When you are discouraged or needed advice, you have the group to turn to.
You cheer each other on during trying times.
You celebrate victories!
You encourage each other to stretch for excellence.
You will also help each other to recognize when your goals are unrealistic or when you are being too hard on yourself.
Here are six steps to create a similar group to turn your dreams into achievable goals:
1. Select the people you invite carefully. Make sure you find some folks who are equally committed. People who aren't committed and don't participate can drag the energy of the group down. People who are committed and enthusiastic lift the level of participation and energy in the group to a remarkable degree and really make it work.
2. Set a time specific time frame for when the group will start and end. This way people can jump in and fully commit even when they are very busy. They know it's not a forever commitment but chances are many will want to continue.
3. Set manageable goals and make your commitments to each other. I realized my first set of goals was unrealistic after reading everyone else's and I ratcheted it back a notch or two. (By the way it feels much better to exceed your goals then to not meet them.) and feeling good about yourself is self perpetuating it makes you even more motivated to achieve.
4. Designate a day for a weekly check-in via email. I actually don't recommend trying to meet in person unless you all have oodles of time and live close to each other.
5. Create a simple form of questions for your weekly check in. – I'll share our fitness form here for an example: 
Name:
Week #__ of 12:
Did I reach my goal?
How did the week feel/ how did it go?Any changes I would like to implement?
6. Have a simple way to connect between your weekly check-ins– a facebook group is free and works really well for this.
Have you ever experienced the power of a group to propel you forward? Share in the comments section below.
Leave a Comment