Do you ever feel hesistant or uncomfortable about sharing your work in a public forum? Here's a possible reason why – you don't want to attract attention to yourself. Here's how to take your "Self" entirely out of the equation.
In this vision, I really FELT myself and my work as belonging to the community. Can you close your eyes and imagine this for yourself?
Leave a Comment
We all need a little push now and again. Sometimes we've just gotten busy and neglected making art for a little while or maybe we had a job or were raising children and neglected it for a good long while.
Whatever the reasons, here is some inspiration to help get you back to work! If not RIGHT this moment, then hopefully sometime in the very near future!
Think how good you'll feel when you do!
Only by doing it will you be able to move through 'the wall' to free creative energy.
You need creative time to bring out the best in yourself.
The Butterfly Effect – Your creativity effects other in ways you will never know. You don't have to be a "famous" artist to have an impact. Just think of how we are still affected by the cave paintings done over 6,000 years ago by anonymous early humans or the baskets, weavings, ceramics, etc. created by people in civilizations who predate ours.
It's an antidote to consumerism. Adds to the good in the world.
Creativity connects you to something greater than yourself.
Now go make something. NOW. Go do it! Even if it's just for 10 minutes! Yay!!
If you've been missing making your art, share below and let us know which reason resonated the most with you?
What are some other reasons you can come up with to do your creative work?
Leave a Comment
One key to supporting healthy, productive innovation is stimulating inputs.
I think it's funny when people say they are "waiting for inspiration to strike." My experience of making art without ever suffering through an artist's block is that you must commit to working regularly and cultivate inspiration much as you might cultivate a garden.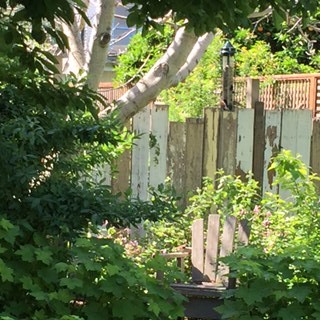 If we want to stimulate creativity it's helpful to take note of what inspires us and make it a priority in our lives.
For me that can come in many forms such as of gardening, walking in nature, meditation, looking at other art, dancing or listening to music. Have you ever left a wonderful exhibition and could hardly wait to get back into your studio?
Have you ever taken a nap to solve a creative problem? I keep a futon in my studio and take naps when needed. Frank Lloyd Wright, Joan Miró and Buckminster Fuller were all known to be nappers.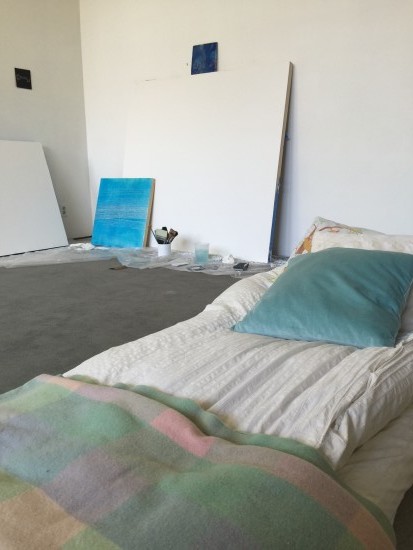 Meditation can work in a similar way. By releasing the day-to-day drool of the mind (What should I make for dinner tonight? Did I remember to pay the water bill), we can clear a space for more expansive thoughts.
I've called meditation the express highway to creativity. The fact is we are all enormously creative, we just need a way to clear the mind clutter to access the portion of our mind where our inner genius hangs out. That's why I start each session of the Mindful Artist Master Class with a guided meditation (recorded so you can listen to it at any time in the future).
Other times, it's not emptying our mind needs but stimulation.
Once I was on an artist residency in a remote area on the Northern California coast. The foundation served only one artist at a time so as to minimize contact with the outside world. There was no internet, telephone, TV and no recorded music was allowed. And outside of minimal contact with the caretakers, there was no other human interaction.
While this was lovely and fulfilling for days, after about a week or so I began to feel a bit listless. Generally, I feel replenished by all the time I spend alone. However, there is a balance of too much time alone and I had exceeded it for the first time EVER.
I learned that connecting with other is something that fills me up and leaves me inspired to create.
Have you thought much about what makes you feel filled and ready and eager to make art? Please respond below!
Suggested homework:
Make a note in your journal of 5 things that help you feel juiced up to create.
If you haven't done some of them recently, set an appointment in your calendar – a date with your creative self – to do one of these things in the next two weeks.
Leave a Comment
Many artists with big ideas feel thwarted or confused as to how to get necessary funds. Have you dreamed of having a a catalog of your work? Do  you wish to mount an exhibition in another city but don't have money for travel? Is there an ambitious project on your list that requires significant monies for material or fabrication?
There are many avenues for securing funds for your art – there are grants from foundations, government or non-profit organizations, private donations, saving your own income. In recent years, crowdfunding – raising funds through small amounts of money from a large amount of people – has offered an alternative making raising money even easier and within the artist's direct control rather than a jury or granting organization.
Hatchfund is a non-profit organization in the United States that gives hands on support for artists to fully fund their creative ideas. What's different about Hatchfund is that all contributions are tax-deductible and their success rate is two to three times higher than other platforms due to their emphasis on support and education.
I had a nice Skype chat with Program Officer Stephany Campos, a  who explains how it works.
How is HatchFund different?
• All the funds raised goes to the artist.
• A real life Project Manager works with each artist.
• More flexible than other crowd funding sites.
• A very high 78% success rate.
• Non-Profit so all donations are tax deductible.
More information can be found at
http://www.hatchfund.org
Please tell us in the comments section – what would YOU like money for as an artist?
Leave a Comment
I had a fabulous, meaty question from a subscriber recently who wrote to say she had recently switched from a 30-year graphic design practice to painting and was finding it tough.
She asked "How do I start a new painting? My paintings have no consistency.
Do I just let it flow? Or does in need to have a set direction?"
This is the question that comes up when we begin to take a more focused approach to painting. When it becomes for us more than a pastime or hobby and becomes a passionate pursuit or profession.
Usually, it's not the painting that's tough, it's the thoughts that come up – the judgments, the inner critic.
Here are some things I suggested she try:
1. Create a studio journal. Writing before starting a painting. Blurt everything out.
2. Step back from the thoughts that are coming up. Become aware of what the quality of the thoughts you have while painting.
3. Set a timer during your painting process and step back, pause every 20 minutes or so and notice what is going on. Check in with your body, emotions, thoughts.
4. If the thoughts are not supportive, replace with more supportive thoughts.
5. Take out all your paintings completed thus far and look at them as a group. Journal about them from a curious, non-judgmental perspective. Don't worry whether you love it or hate it. Just get curious. Write down from a neutral voice what you are noticing.
6. Think from a broader perspective about what the paintings are about. What are they teaching you? What are they showing you?
Leave a Comment
Don't you just love being read to? I do! I loved it as a kid and I still love it as an adult. Just one of the many reasons I love to listen to audio books.
My little holiday gift to you – I'm reading a chapter from my book Seven Essential Practices for the Professional Artist: Create a Studio Habit – Consistency
I hope this gives you a little boost to get in the studio if you've been having trouble making that a regular habit.
Many artists I've worked with struggle to create regular time for art making. It seems as if everything else always gets in the way!
It's easy to fall into this trap. Why should it be so hard when it's what you love to do?
One reason is that many creatives, in all fields, have a highly developed inner critic. But it can be a problem when you let this inner critic run rampant in the early stages of creating something.
We also doubt that we have ideas that are worthwhile. I'd like to go on record as saying even if only ONE person in this world benefits from your studio practice – YOU –  the entire world has benefitted. You are no more important or less important than every other being on this planet. Your happiness, satisfaction and sense of deeper connection with All-that-is that creative practice engenders spills out and touches all in your circle. When you have it in you to be creative and you fulfill that promise, it feels as if everything is right in the world. Have you notices? And in turn your family, friends and colleagues get a happier more fulfilled version of you. Then they in turn touch every one else in their circles with a greater sense of satisfaction and peace and so on.
I've found it highly beneficial when stuck in the studio and having trouble getting jump started to have a commitment to regular, inviolable studio time. Even fifteen minutes a day makes a huge difference!
Creativity is like a muscle. Use it regularly and it gets stronger, firmer, more toned and ready for action.
Once you cultivate this regular practice, it becomes like a loyal friend. It will not let you down it will be a comfort and solace in the good times and not-so-good times.
If you have your own ideas to share about how having a regular habit of getting into the studio has helped you, please do in the comments below!
Or perhaps consistency has never worked for you and you prefer a more sporadic studio practice – let us know about that! There is no ONE way for every artist. The mindful artist community is designed to help you find YOUR unique path to a satisfying and enjoyable life as an artist.
By the way, Iris mentioned in the comments that she hadn't realized the book was available in print. If you are in Canada, you can purchase copy directly from the publisher, Editions FrI, and have lower shipping costs. (The may even have a few signed copies left!) 
http://fissaly.wix.com/editionsfri#!m…
Or you can get it here on Amazon: http://goo.gl/ngnDI
Leave a Comment