We all need a little push now and again. Sometimes we've just gotten busy and neglected making art for a little while or maybe we had a job or were raising children and neglected it for a good long while.
Whatever the reasons, here is some inspiration to help get you back to work! If not RIGHT this moment, then hopefully sometime in the very near future!
Think how good you'll feel when you do!
Only by doing it will you be able to move through 'the wall' to free creative energy.
You need creative time to bring out the best in yourself.
The Butterfly Effect – Your creativity effects other in ways you will never know. You don't have to be a "famous" artist to have an impact. Just think of how we are still affected by the cave paintings done over 6,000 years ago by anonymous early humans or the baskets, weavings, ceramics, etc. created by people in civilizations who predate ours.
It's an antidote to consumerism. Adds to the good in the world.
Creativity connects you to something greater than yourself.
Now go make something. NOW. Go do it! Even if it's just for 10 minutes! Yay!!
If you've been missing making your art, share below and let us know which reason resonated the most with you?
What are some other reasons you can come up with to do your creative work?
Leave a Comment
I had a fabulous, meaty question from a subscriber recently who wrote to say she had recently switched from a 30-year graphic design practice to painting and was finding it tough.
She asked "How do I start a new painting? My paintings have no consistency.
Do I just let it flow? Or does in need to have a set direction?"
This is the question that comes up when we begin to take a more focused approach to painting. When it becomes for us more than a pastime or hobby and becomes a passionate pursuit or profession.
Usually, it's not the painting that's tough, it's the thoughts that come up – the judgments, the inner critic.
Here are some things I suggested she try:
1. Create a studio journal. Writing before starting a painting. Blurt everything out.
2. Step back from the thoughts that are coming up. Become aware of what the quality of the thoughts you have while painting.
3. Set a timer during your painting process and step back, pause every 20 minutes or so and notice what is going on. Check in with your body, emotions, thoughts.
4. If the thoughts are not supportive, replace with more supportive thoughts.
5. Take out all your paintings completed thus far and look at them as a group. Journal about them from a curious, non-judgmental perspective. Don't worry whether you love it or hate it. Just get curious. Write down from a neutral voice what you are noticing.
6. Think from a broader perspective about what the paintings are about. What are they teaching you? What are they showing you?
Leave a Comment
Don't you just love being read to? I do! I loved it as a kid and I still love it as an adult. Just one of the many reasons I love to listen to audio books.
My little holiday gift to you – I'm reading a chapter from my book Seven Essential Practices for the Professional Artist: Create a Studio Habit – Consistency
I hope this gives you a little boost to get in the studio if you've been having trouble making that a regular habit.
Many artists I've worked with struggle to create regular time for art making. It seems as if everything else always gets in the way!
It's easy to fall into this trap. Why should it be so hard when it's what you love to do?
One reason is that many creatives, in all fields, have a highly developed inner critic. But it can be a problem when you let this inner critic run rampant in the early stages of creating something.
We also doubt that we have ideas that are worthwhile. I'd like to go on record as saying even if only ONE person in this world benefits from your studio practice – YOU –  the entire world has benefitted. You are no more important or less important than every other being on this planet. Your happiness, satisfaction and sense of deeper connection with All-that-is that creative practice engenders spills out and touches all in your circle. When you have it in you to be creative and you fulfill that promise, it feels as if everything is right in the world. Have you notices? And in turn your family, friends and colleagues get a happier more fulfilled version of you. Then they in turn touch every one else in their circles with a greater sense of satisfaction and peace and so on.
I've found it highly beneficial when stuck in the studio and having trouble getting jump started to have a commitment to regular, inviolable studio time. Even fifteen minutes a day makes a huge difference!
Creativity is like a muscle. Use it regularly and it gets stronger, firmer, more toned and ready for action.
Once you cultivate this regular practice, it becomes like a loyal friend. It will not let you down it will be a comfort and solace in the good times and not-so-good times.
If you have your own ideas to share about how having a regular habit of getting into the studio has helped you, please do in the comments below!
Or perhaps consistency has never worked for you and you prefer a more sporadic studio practice – let us know about that! There is no ONE way for every artist. The mindful artist community is designed to help you find YOUR unique path to a satisfying and enjoyable life as an artist.
By the way, Iris mentioned in the comments that she hadn't realized the book was available in print. If you are in Canada, you can purchase copy directly from the publisher, Editions FrI, and have lower shipping costs. (The may even have a few signed copies left!) 
http://fissaly.wix.com/editionsfri#!m…
Or you can get it here on Amazon: http://goo.gl/ngnDI
Leave a Comment
In this feature, each month artists share one thing that excites them creatively.
One key piece to support healthy, productive creativity is stimulating inputs. What kinds of things stimulate the creative centers of the brain? What kind of inputs stimulate us visually? Emotionally? Spiritually? Mentally? Physically?
I'd really like to know, what's one thing that fills your creative cup? Share with us in the comment section below.
Matthew Johnson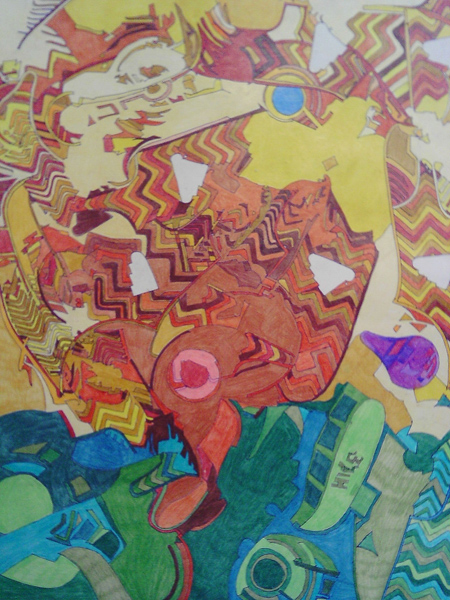 Hello M.A. bloggers, my name is Matthew Johnson and my creative stimulation dwells within the realm of the creation we call "Life." From the tiniest insects that stroll around among the vast plains, and rolling hills of this planet, to the human machines that occupy this world, and discover the ins and outs about our existences through experiences. There are so many outlets that my artistic view drives upon, and my mind travels alongside imagination avenue with my solar-battery operated automobile packed full of music, paint, pens, and a broken navigational device (to ensure that I am in no way shape or form 'set' within any boundaries of expression). As you stroll through the corridors of the imagination, it is only you that can entail what you see and then begin to proceed to create the pieces you're driven to produce. Continue all the great work, and may peace be your imagination's significant other.

Matthew Johnson


Toni Murgas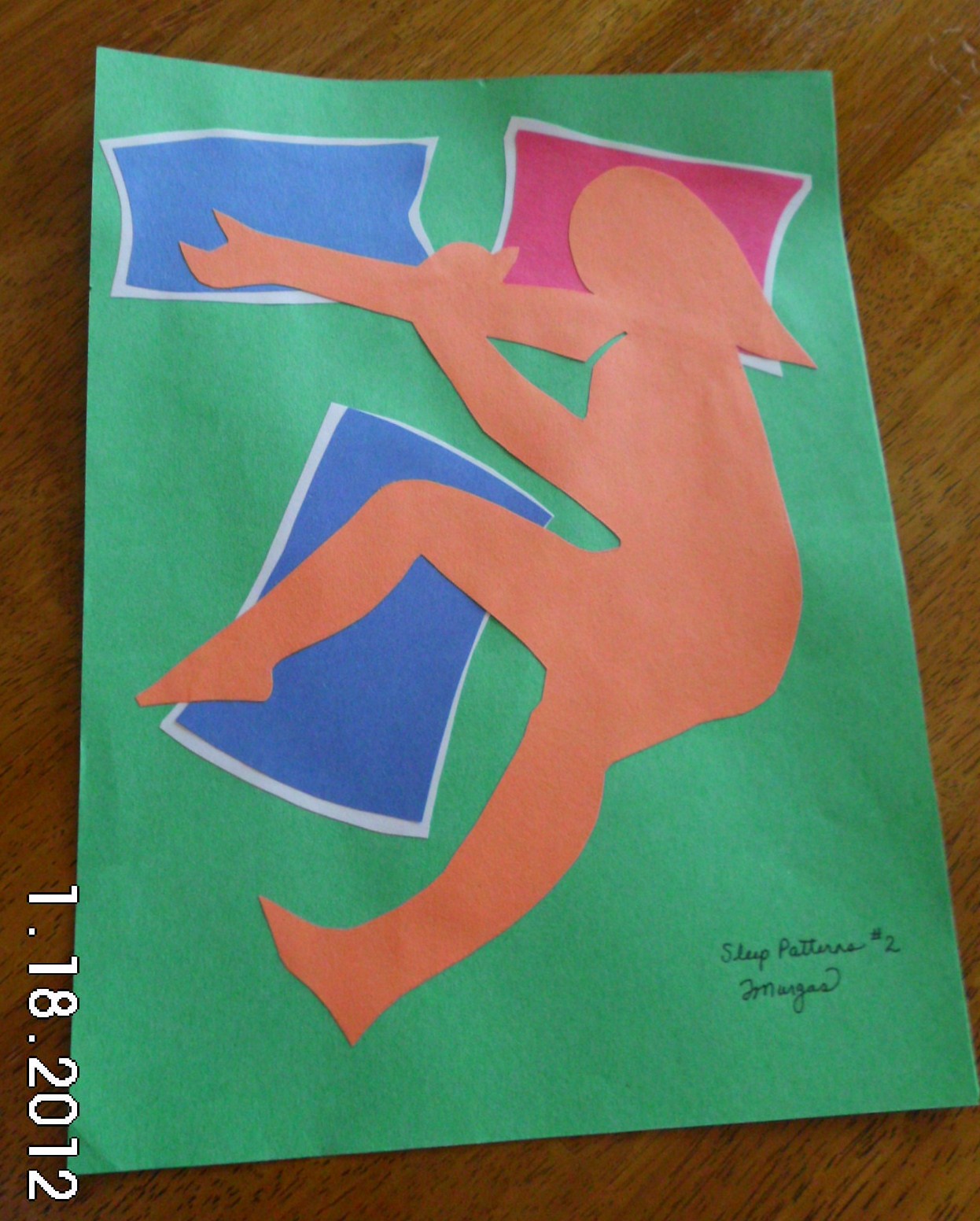 Things that inspire me may be a picture of nature, a book I'm reading, a dream or a song. I was reading a book on Edward Manet and how he used to cut paper as he got older to create his art. This inspired me to cut and paste colored paper.

Toni Murgas

Leave a Comment
Food for thought is where I share a quote I've come across for your reflection and discussion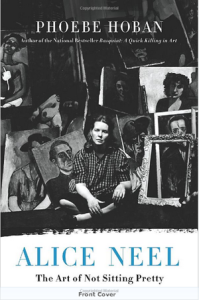 among the other artists in the mindful artist community.
If you've been following me for a while you may have gathered that I'm a keen student of the creative process. I'm always interested in other artists' experience of their art practice and how it can help us better understand and navigate our own. 
My loving husband gave me this book on Alice Neel for Christmas that I've just begun reading so I thought a quote from Alice Neel might be in order.
You should keep on painting no matter how difficult it is, because this is all part of experience, and the more experience you have, the better it is… unless it kills you, and then you know you have gone too far.
– Alice Neel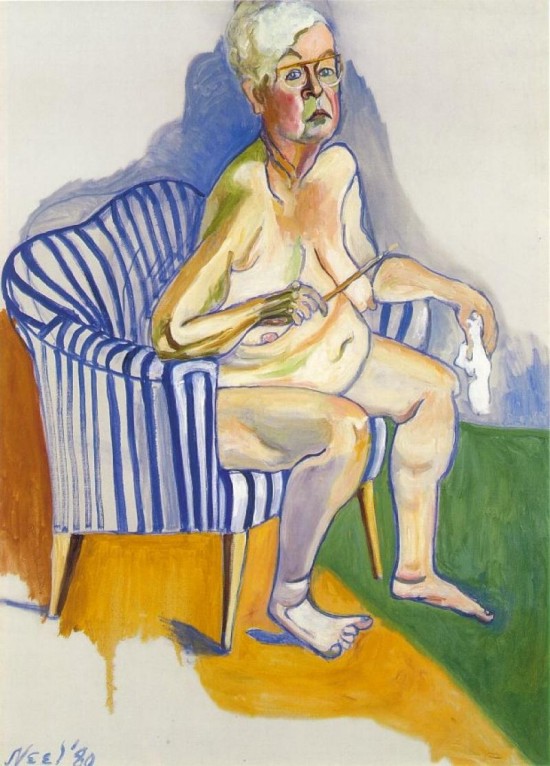 What about you? Do you feel you ought to keep making your work even though it is difficult?
Can you give an example of a "difficult" time in your work?
What does it mean to you to have gone too far?
Please share your thoughts in the comment section below.
Leave a Comment
In this feature, each month artists share one thing that excites them creatively.
One key piece to support healthy, productive creativity is stimulating inputs. What kinds of things stimulate the creative centers of the brain? What kind of inputs stimulate us visually? Emotionally? Spiritually? Mentally? Physically?
I'd really like to know, what's one thing that fills your creative cup? Share with us in the comment section below.
Kellyann Lyman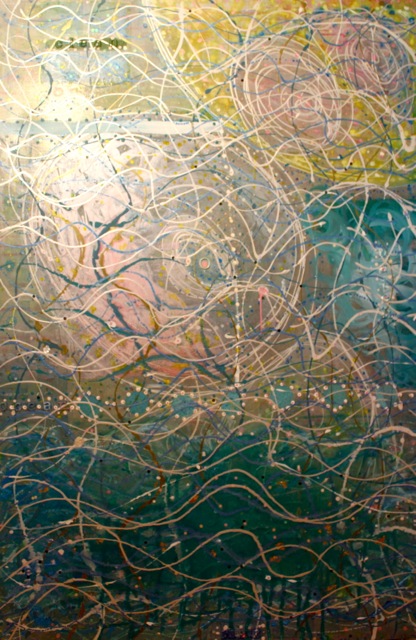 The continued practice of an academic rubric that instills a love of learning is what inspires me. I continue to explore the complexities of abstract painting by continually readdressing the medium with reinvented concepts and methods from conceptual and minimal art: the use of repetition, color palettes, materials, the appropriation of photographic images, ink, silkscreen, digital reproduction and the transmedia discourse.

Kellyann Lyman


Carol Steinberg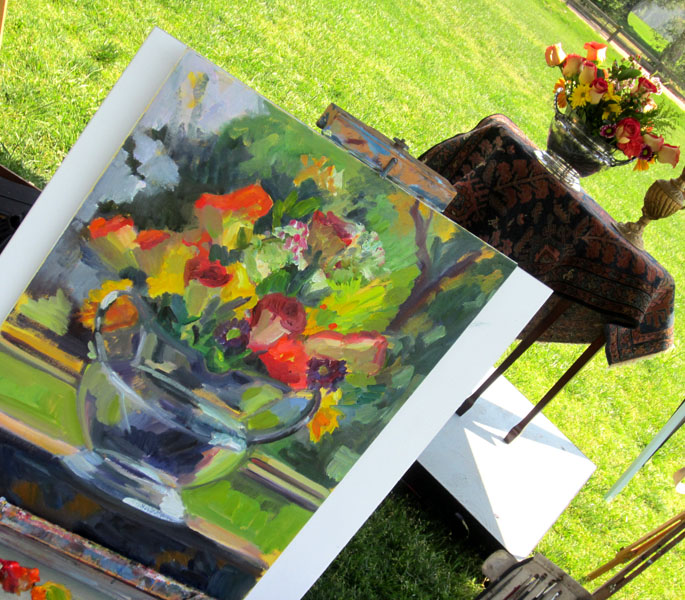 I'm inspired by flowers, sunlight, and bright colors!
Carol Steinberg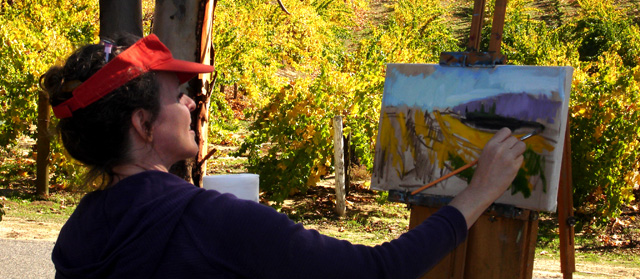 Leave a Comment