When I first switched over from oils to acrylics years ago – I was always trying to get away from the "plastic-y" look they had.
Then I discovered the array of gels and pastes that could take the standard paint texture from creamy to stiff to sandy to matte.
The two I show you in this video are still in my all-time favorites list.
Hope you enjoy it and let me know your thoughts! Have you used these before? What are your favorite acrylic gels? Any techniques you'd like to share?
Leave a Comment
Wherever you are right now as an artist, I am here to remind you that you can do this.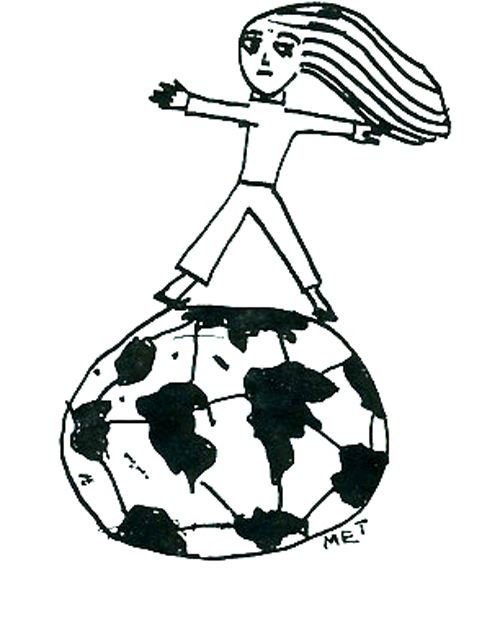 It may not always be easy and it may not always be smooth but if you keep at it you will experience joys and rewards you could not have dreamed of from where you stand right now.
It may not always look exactly like you dreamed it would, but the life you aspire to is waiting for you.
I just wanted to make sure you remembered this.
Your work means something. There is a place for your work in this world. No matter what kind of work you make, there are people out there just WAITING for you work.
Really.
There hearts are longing for what you and ONLY you can give. Just as there is no one in the entire world who looks quite like you, there is no one in the whole entire world who can create what you do.
Your work is important.
Please remember that.
Now, go get in the studio!
Leave a Comment
Ever gotten paint on a favorite item of clothing, carpet of piece of furniture?
This is hands-down my most popular video on youtube:
This method works for the toughest dried on acrylic paints and mediums as well as oil paints AND it's a non-toxic, biodegradable product.
Another tip – my husband and I have restored 3 different hundred + year-old homes and I have used this product to safely soak layers and layers of the paint off of intricate hardware.
Andrew Lenz owner of Lenz Arts in Santa Cruz claims it "saved his marriage" after he tracked tar in the house and nothing else he tried would remove it from the carpet.
Hope this helps!
Leave a Comment
A lot of people recently when I tell them about my next in-person workshop have been asking me "What exactly is stain painting?" So I thought I would show you rather than tell you. In the late 50s and early 60s there was a move towards creating abstract canvases in which color became the primary subject matter and the paint itself practically merged with the surface. These painters created fields of color on large canvases which might envelop the viewer with their scale.  were some of the known "Color Field" painters among many others. Helen Frankenthaler and Morris Louis invented a particular type of Color Field painting called Stain Painting in which the liquid paint seeps into the fibers of an unprimed canvas.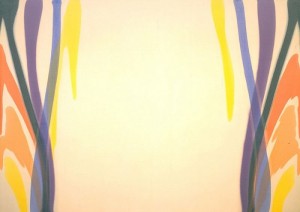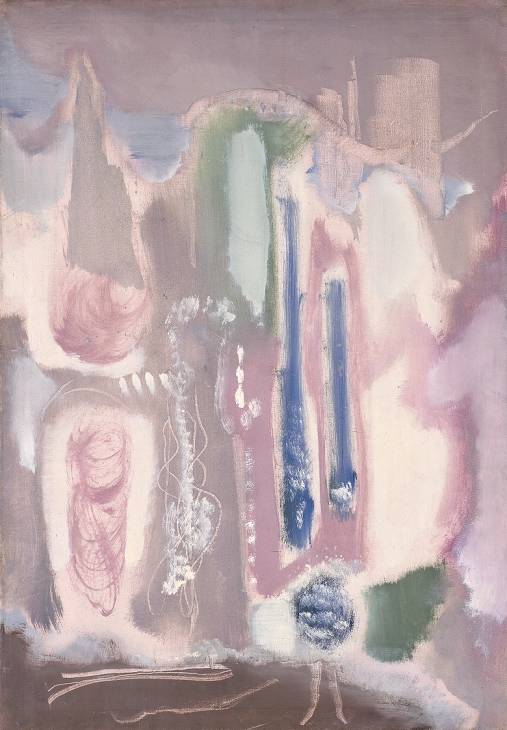 Here is a video from a talk I did at Portland State University in Oregon showing some simple preliminary steps to getting started with this gorgeous technique.
You can see from these photos, I like to encourage people to work large and get their whole body into it! We'll be doing some yoga stretches to warm up – but don't worry if your body won't allow sitting on the floor, I have a big studio and plenty of table space, too.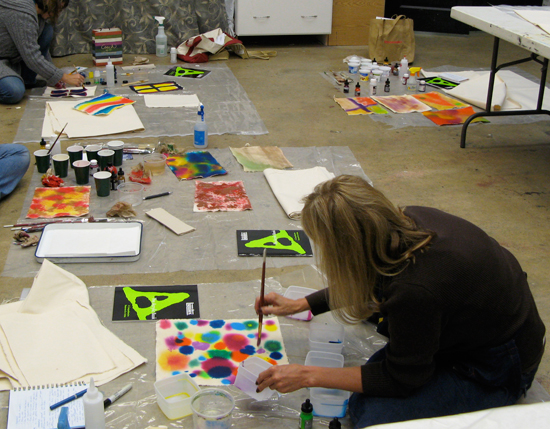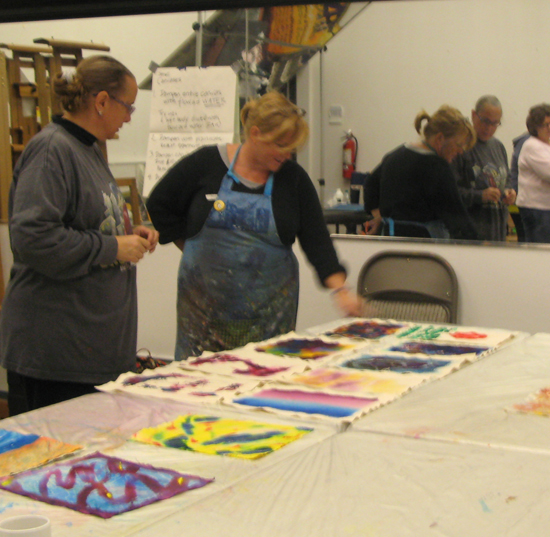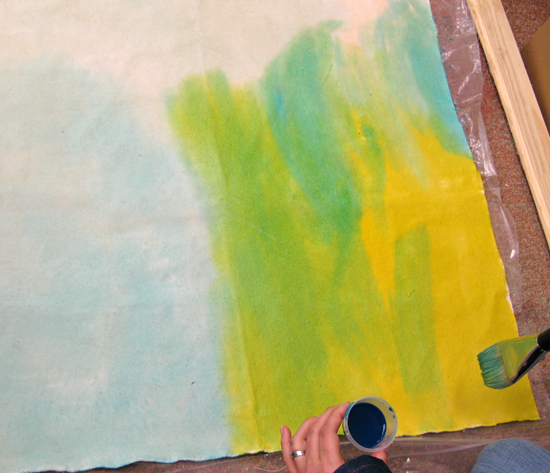 These were taken in 2009 and 2011 in North Carolina. May 5 will be  the first time I have ever taught this workshop on the West Coast.
It's a beautiful technique and so much fun to try! Come join us for an all-day workshop in my studio in Emeryville, CA Saturday, May 5. Click here to register.
Leave a Comment
A dear artist friend of mine recently finished a major commission. (SO excited for her and proud of her!) However, she mentioned she's feeling a little let down after all the hard work she put in to get it finished on a tight deadline. She's left with that feeling: Is that it?
It reminded me of a story I heard about an artist who achieved the distinction and recognition of being included in the Whitney biennial in her early 20s- an achievement that many contemporary American artists covet and aspire to. And yet, as she was riding the bus after the opening and she described an empty feeling and a similar thought. So that was it?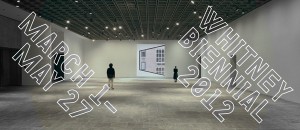 (Depending on where you are right now with your career you may be saying to yourself, If only I had such problems!)
But this kind of post-event let down brings up a question all of us face: Why are we doing this stuff in the first place? Because I'm sure many of you, like me, have these benchmarks – things we want to achieve because we think we'll feel better when we get them.

I'll be really happy when…
I get in that gallery.
Someone buys my work.
I get in the Whitney Biennial.
We might get so caught up in reaching that goal, completing a body of work or preparing for an exhibition that we forgot to feel happy with where we are right here and now. We may neglect to appreciate the present moment and our current situation.
I know in my own life I have had different dreams for my art. For instance, when I was in my 20s I always wanted to travel abroad for my art and have shows in different countries. I dreamed of exhibiting my work in museums. Now that I've achieved these things I want even bigger things. I want to be in bigger museums and better known venues. I compare myself to others who have achieved things I have not and I forget to appreciate all that I have created and all that I have achieved. This isn't good enough. What's next?
There are always things to appreciate no matter where you are in your career. It's great to always be looking forward and to have big dreams visions and goals to help us move forward.
But actually the true joy and excitement is in the day-to-day!
We live only in the present moment.
Honestly, nothing else exists. Everything else is just dreams (the future) or memories (the past).
We got in this racket to enjoy the creative ride!
Every dream or goal is to inspire some kind of fun action that we can savor while we are in the moment.
Moment by moment by moment.
Contrary to popular myth it's not about some kind of arrival, some pinnacle, some accomplishment.
Think for a moment about all the unfulfilled dreams and wishes you have currently for your creative or professional life. Now ponder what exactly is it that you hope you will feel when you've achieved this dream? Will you feel more successful? Will you feel happier because you'll feel validated as an artist? Will you feel better when your work is recognized? Or that other people will take you more seriously as an artist?
Is there a way you can validate yourself right now? How can you appreciate or recognize yourself as you are in your current s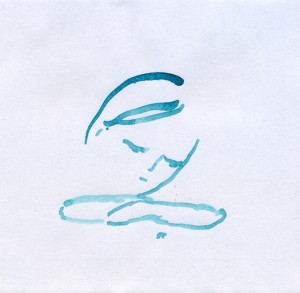 tate?
Now, pause to savor this very moment. Breathe deeply. Feel your body against the chair, hear the hum of your computer. Receive the sounds around you near and far. The drip of the faucet, a bird, the neighbor's thumping bass? Notice the colors and textures in your vicinity. Close your eyes and allow a faint smile to lighten your lips. Can you keep breathing and relaxing until you can touch on the exquisiteness and the preciousness of this present moment?
I'd love it if you'd share in the comments below something small (or big!) that you treasure and cherish in your current life. Be it the fact that you are blessed to have a box full of art supplies to make your work, or the fact that you have a space to work in or the fact that you have these gifts or skills or you have a family member or a friend or a teacher who is supportive of your endeavors.
Isn't it wonderful that I have this connection to my creativity?
How great it is that I have had ideas and new ones keep flowing through me!
Isn't it sweet that I am reading this article because I'm committed to supporting myself mentally, emotionally spiritually as a creative person?
Whatever it is, I invite you to appreciate that now and do not let go of your dreams!
Leave a Comment
Do you remember the first time you painted? The pure joy of smushing paint about? The miracle of watching colors interact? The visceral thrill of seeing just what the stuff would do?
Sometimes, as we gain skills and get more "serious" about art, it's easy to get caught up in outcomes and we forget just how fun paint can be as a material. But don't you find that playfulness is often where you best "serious" discoveries occur?
Pouring with acrylics can take just about anyone back to that immediate delight of handling pure color. Here is a video to show you a basic technique with pouring :
But you ought to know there is SO MUCH more it can do! For instance, have you seen Brazilian painter Beatriz Milhazes' exuberant canvas collaged with layers of acrylic sheets in eyepopping colors and forms?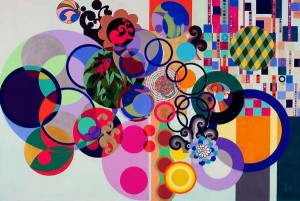 Image courtesy of James Cohan Gallery
I created this piece using pouring medium and string gel combined. See my post here for video with details on how I did it.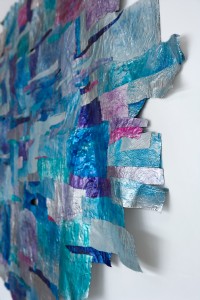 I'll be teaching all this and more at my workshop on February 11 right here in my beautiful new studio in Emeryville. I'm so excited about my new location because it's within walking distance of plenty of hotels and restaurants. So if you want to have a little San Francisco getaway/art retreat, the Hyatt, Sheraton, Hilton, Holiday Inn, Woodfin Suites, etc. are all within blocks of my studio.
The first 5 people to sign up are getting a bounteous bonus gift worth over $50 – a kit of acrylic inks, soft body colors, a medium, a mini canvas and a palette knife.
Here is list of materials that I used that will help you get started:
Happy Painting!
Leave a Comment