Many artists want to get away for a vacation but rarely do they want to leave their art practice behind. In fact, if you are going away for more than a week you will probably sorely miss creating if you don't pack some art supplies.

When I get relaxed and I have oodles of free time one of the first things I want to do it seems is draw. So, how to make your painting studio portable? If you are driving, you can often find room for canvases, a French easel (portable paint box with easel legs) and all your paints and brushes.

Here is our man Cézanne modeling the portability of the French easel: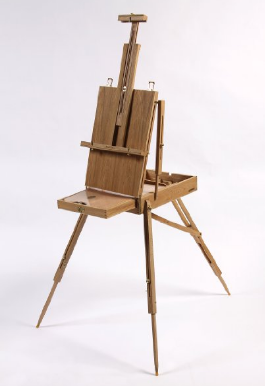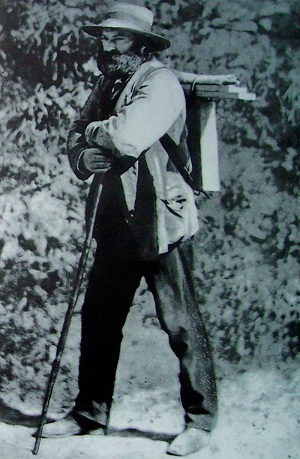 However, if you are flying, biking or backpacking, you'll need to pare things down to what you can fit easily in suitcase, panniers or pack. Drawing supplies are pretty easy to pack – pastels, pencils, charcoal and paper can all tuck neatly into a suitcase. But what if you long to paint large on your trip to Italy or the Ozarks? One option is to bring smaller pieces of paper and put them together to form one larger piece. Such as this piece by David Hockney, made up of 4 smaller sheets.
If you work in acrylic or oil on paper, you can gesso some heavy sheets of paper such as Coventry rag which is 100% cotton. When you get home you can mount any paper onto canvas, linen or wood panel so it has more presence and durability.

If you are traveling domestically, you might consider shipping your art supplies via ground transport to your destination so you don't have to worry about packing them or flying with liquids. If you are traveling abroad, shipping art supplies to or from a foreign country can be a slow and costly option, and I don't recommend it if you can avoid it.

Instead, try paring down your materials to the bare minimum that you can easily fit into your suitcase.

Drawing media and watercolors are the most portable.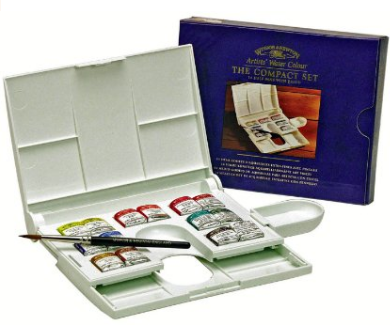 I like the Winsor and Newton compact sets for portability. I have been traveling with mine for years and just occasionally need to replace the colors which can be purchased separately.
You can also make your own set by packing a few tubes of paint in zip-lock bag and wrapping your brushes in a sheet of thin cardboard to protect the bristles from bending. Sometimes I will improvise a palette on the spot. A plastic lid from a food container or those waxed paper caps they put on the water glasses in some hotel rooms work beautifully in a pinch. Not packing a palette means I can travel lighter. 
I like the Arches watercolor blocks.  Because the paper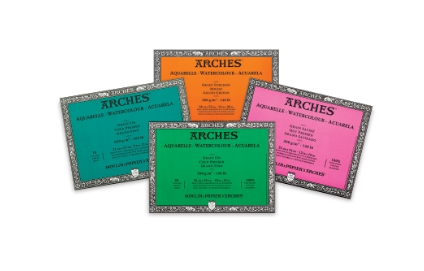 is affixed to the pad on all four sides, it eliminates the need to stretch the paper or bringing an extra drawing board.
I also like the Rotring Art Pens in Fine and Extra Fine for pen and ink sketching. They eliminate the need for a messy bottle of ink by packaging the ink in neat cartridges.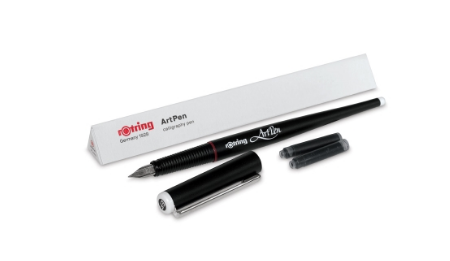 The ink is a rich, archival black. I've been known to dip the nip in water to create shades of grey or to use my finger or a brush to pull ink off of the tip and make washes.
Brush pens are also fun and easy to pack. Faber-Castell makes 48 gorgeous colors that are all lightfast. The brush nib makes wide strokes and also very fine lines. No palette, no brushes needed!
Charcoals and chalk pastels travel nicely but you will need to use a fixative to protect your drawings from smudging. Fixative comes is in an aerosol and takes up a lot of suitcase space. (You are also not allowed to fly with aerosols according to TSA regulations.) If you like colored pencils, Caran d'ache watercolor pencils or pastels or graphite pencils they may be easier option to travel with because they smear less they don't require fixative.
| | | |
| --- | --- | --- |
| | | |
If you are going abroad, I recommend packing what you need. I love to shop for art supplies in other countries. Just looking at the different brands, the ways items are arranged and displayed fascinates me. But I would rather travel with my own supplies because then I know I have what I need and I can get started right away and don't have to spend an afternoon hunting down a shop on some obscure little street.

Later, I can go on a shopping trip to supplement what I brought or just for the pure enjoyment of browsing. Remember, though, that you may not carry any oil paints, solvents or mediums on an airplane as they are flammable and considered hazardous.

If you are an oil painter, you may carry oil bars on an airplane instead of tubes of paint. They look more like giant oil pastels and build up color easily. Pack some gessoed paper, or primed canvas or masonite panels and a few brushes and you can accomplish quite a bit. If you need to, you can purchase some solvents or mediums at your destination to clean your brushes, help manipulate the color further and to create glazes and details. (You can also clean oil brushes with non-toxic vegetable oil followed by washing in warm, soapy water.)
For the acrylic painter, another solution for travel is to carry a palette of two-ounce. jars of soft body paint or fluid acrylic colors. Be sure to tape the lids closed and to seal them in Ziploc bags as the pressure on an airplane may cause them explode and spill a little paint.

Or stack them in a cylindrical mailing tube into which you can tuck a few paintbrushes to protect the bristles. You don't have to bring a lot of colors. I suggest a primary palette of phthalocyanine blue, quinacridone crimson and yellow medium azo plus titanium white. From these I can mix beautiful rich browns, greens, oranges, and even a rich deep black!

I made a youtube video here on mixing browns from those three primaries:
Painter Derek Leka glues seven small screwtop jars to his palette and fills them with acrylic paint for traveling. The key is to make whatever you do fun, easy to carry and easily portable.
And don't berate yourself if you don't end up making a bunch of work but instead are distracted by the gentle summer breezes, the night sky,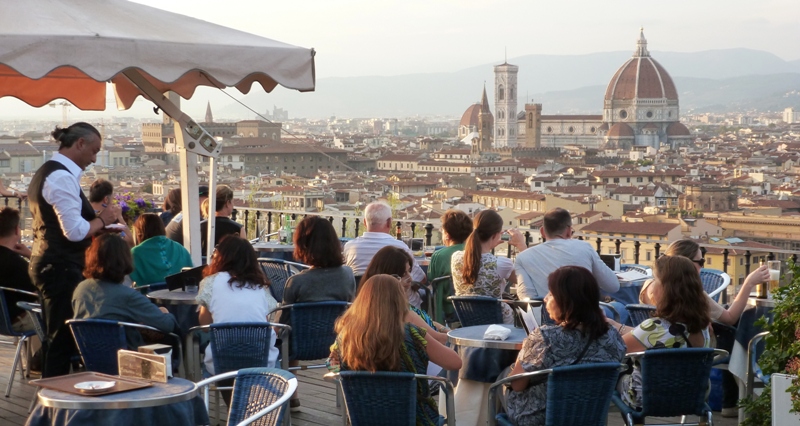 sitting in a café with a cappuccino and people watching. Remember, it's a vacation!
And besides, there is no better way to fill your artistic well than to truly relax and be in the present moment.